Today, rather than looking for a segment/body style of vehicle, I decided to choose three titans of the industry directly and see how they fare against each other. Those titans are the classic American mid-size pickup trucks, the 2013 Ram 1500, 2013 Chevrolet Silverado 1500HD, and the 2013 Ford F-150. As always I'll be using
The Vehicle For Me
for all specs and comparisons.
Since there are about a bajillion trims for each model I've chosen comparable trim levels for each vehicle, all around the $28,000 mark, and all 4x4s with a regular-sized cab. Also, my priorities are fairly straightforward as a prospective truck owner. I'm looking to maximize power, bed size, and tow/payload ratings. Let's see what we get!
Given the priorities I set, which you can see in the screenshot, the Ford F-150 beats the Ram and Chevy by a fair margin, though I have to say the Ram looks really good. In fact, if I remove all priorities, then the Ram actually ends up winning. But let's stick to the priorities I've set, and see what's what.
Power
First of all, the Ram and the Ford seem to be pretty darn close in the power department. The Ram bests the Ford in Horsepower, but loses to the Ford in torque. Interestingly, the Chevy has much lower horsepower here, but a very competitive torque and torque rpm, so the power it does have is available very freely. The winner in the power department seems to be the Ford, due to it's lower weight. Otherwise, it really is a toss-up between the Ford and Ram.
Bed Size
Here the winner is clearly the Ram, despite the fact that I couldn't prioritize Bed Width (Wall) due to too many priorities already. The Ram's bed is longer and wider than the Ford's, and only loses in depth, but the total bed volume on the Ram is significantly more than the Ford's, though it does pay for that with the 100lbs of extra weight.
Tow/Payload/GVWR
The Ford is the clear winner here, thanks to its high torque and low weight. It achieves the highest tow rating and GVWR, though it does lose to the Chevy in payload capacity. The Ram is really not that far behind the Ford here, either.
Conclusion
It is surprisingly close between the Ford F-150 and the Ram 1500, but I'm going to have to give it to the 2013 Ford F-150 due to it's better power, front legroom, and not-bad fuel economy, though it seems you do pay a small premium for all that extra goodness, it being the most expensive of the three. The 2013 Ram 1500 comes in at a very close second, and it would be the one to pick if you're looking for best value for your money, or you need to haul stuff that takes up a lot of space. And finally, the poor 2013 Chevrolet Silverado 1500 comes in at a meager 3rd, due to it's low power and small size. However, the icing on the cake is that the Chevy does have the best payload rating, so if you need to haul heavy stuff a lot then this may be the truck for you.
1st - 2013 Ford F-150 XL
2nd - 2013 Ram 1500 Tradesmen Regular Cab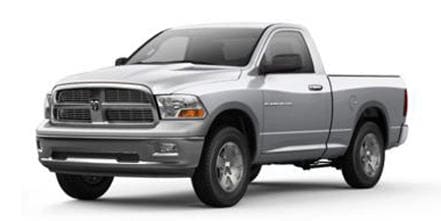 3rd - 2013 Chevrolet Silverado 1500 Work Truck 4WD